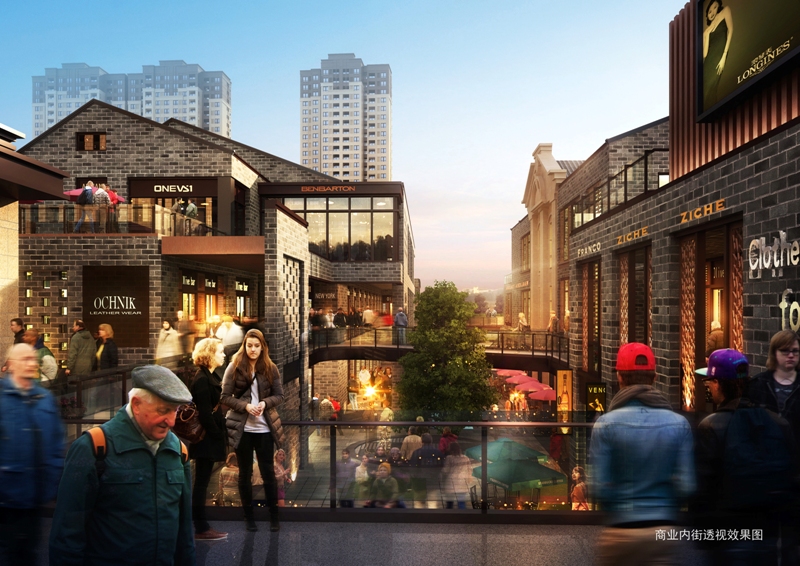 Commercial Street of Bengbu Pengxin Aqua City, Anhui
Design Intent: A cultural and commercial street which use buildings and business as carriers and the forms of manifestations are consume activities and the exchange of experiences.
Design Background: Project based in the core area of Bengshan District in Bengbu, The local 4A level scenic spot – Zhang Gong Shan Park is on the west side of the project. And the mainly commercial axis of Bengbu Donghai Avenue is on the south of it. According to its good place, the owners hoping to plan a Bengbu Aqua-City Mall and a length of 700 meters commercial street through three plots of Bengbu Golden-Tour-City. This project is an early section of the Golden-Tour-City Commercial Street, It is a connecting link in the overall planning and also play a very important leading role.
Design Concept: Bengbu has a nickname "Pearl City",named because of the original rich pearls. Pearls hide in mussels and good inheritance of traditions hide in modern city. You can't see the blooming glory until you open the mussels. The Golden-Tour-City Commercial Street is surrounded by many large-scale commercial complex such as the Aqua-City Mall, Wanda Market and Glory Market. These commercial activities contained in these commercial buildings have been sufficient to meet the needs -modern life, consumption and entertainment- of target population in this block. But we hope to do more in this modern city: build a small piece of traditional spiritual and cultural place, so that people can stop the footsteps and follow their heart. The Golden-Tour-City Commercial Street will be the "Pearl" hidden in Bengbu.
Project Information
Bengbu Pengxin Aqua City Real Estate Investment Co. Ltd.
Consultant firms
Shanghai DAO Design& Consulting Co.,Ltd.